Founding members - Grivita53 Cultural Association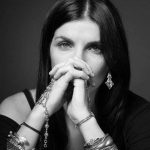 Chris Simion-Mercurian
Director & writer
Ever since I went to theater school...I wanted not only to do shows but to build a place for them. In all these years, I staged both on the stages of state theaters and in the most improvised, alternative, underground spaces. With so much diversity, I had the chance to challenge myself and iron out my skills. The only certainty that what I do is necessary has consistently come from the audience. In the most concrete moments of doubt, the public held me accountable. No matter how hard it was, I didn't give up dreaming of that space that I'd longed for since the beginning of the journey, for not even a second.
I have had many temptations over all these years. As much as I wanted a theater, I didn't want it enough to make any compromise for it. Every time I deleted an address from the list, I knew it wasn't to be. It's a dream, but not at any price... I told myself... and in no case at the price of the soul. So I stuck to this fight waiting. And now, after 18 years, that imaginary island on which we dreamed of building experiences... begins to take shape.
I see in Grivita 53 a place where we can find our place. Each one separately... because there will be a clean place... for everyone. To build or not to be.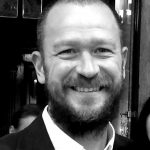 Tiberiu Mercurian
Marketer
I have a little more and I'm celebrating my coming of age in marketing. It's been 18 years since the first interview with Theresia and since my first assignment: marketing trainee at Henkel. You can find what happened next on LinkedIn. I firmly believe that all these 18 years I have been preparing for this project - Grivita 53. It seems interesting to me that I worked in, they say, the most creative department of a company, so I can now be the least creative from a team made up mainly of artists. Cool isn't it? My role is to bring the ideas to earth and turn them into power points and excels. So in this team, I'm the keyboard boy.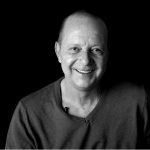 This project is not just a construction. It's a way to preserve the actor's spirit and that can only happen if you start from scratch. The fact that I have played in so many spaces and in so many places gives me the right to be in this team, to build - not for me, but for those who will come - a place of the spirit. I am responsible for doing this. This place wants to be an uncompromising cultural space, it will be a theater that will express itself freely, that will have effervescence and restlessness. His appearance is not an accident, but a necessity.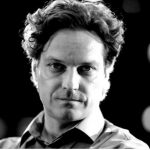 I see the theater as a family. That's why I think that this house on Calea Grivitei 53 started on a good path from the beginning because it has this family spirit. It may seem naive to build a theater from scratch these days. But for me, this is exactly what makes me want to be part of the story. Until '89 I lived in a block in Militari with number 53. It can be verified. Now, a part of me also "lives" in the house on Grivita 53. By the time this project is finished, I will be 53 years old. The destiny of each one of us has its numbers.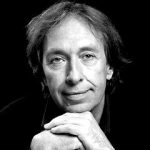 Pascal Bruckner
Philosopher & Writer
I met Chris Simion in 1999. She was then very young, with big blue eyes and a smiling face. From the very beginning, I saw an energy in her that surprised me. She appeared enthusiastic and dynamic, spoke quickly and a lot, and was always in a hurry, eager to obtain the consent of the interlocutors. She knew everything, had read everything and wanted to adapt everything. She had immeasurable ambitions for her 20 years and I was surprised at first by looking at her with skepticism, doubting that she would be able to complete all the projects she dreamed of. Just as you doubt a very young doctor, the age of your children, that he could give you a correct diagnosis and cure your illness. Even if that doctor finished university with the highest score, there is a restraint related to his age. It was the same with Chris. I was wrong, obviously. Not only was Chris Simion always at the top of the projects we did, but also because he achieved incredible things for a woman of her age.
I remember her in Paris, more than 12 years ago, when she had just played with her crew in French - a rather approximate French - Copilul Divin(the Divine Child), first at the Lucernaire Theater, then in a theater on the outskirts. It was a boldness that left us all speechless.
That day I told myself that she will go far and that the flame that consumes her will take her career even beyond her hopes.
I remember the public reading of The Paradox of Love, which she did in Bucharest, 5 years ago: my text is an essay. She made it a play. I created something with seriosity. She deciphered it comically. I liked the solution, it was funny, at the same time close and far from my book, with a personal touch that I found irresistible. Beauty Thieves was fabulous. If she had done it in Paris, it would have been at the top of the shows in France.
I was therefore not at all surprised that she threw herself into this vast project that should forever change the Romanian dramatic scene and the independent theater in Bucharest. Not only do I encourage her in this initiative, but it is an honor for me to be a supporter of such an initiative and to make this dream come true.