"Which of us?"
a film by Chris Simion – Mercurian about cancer as opportunity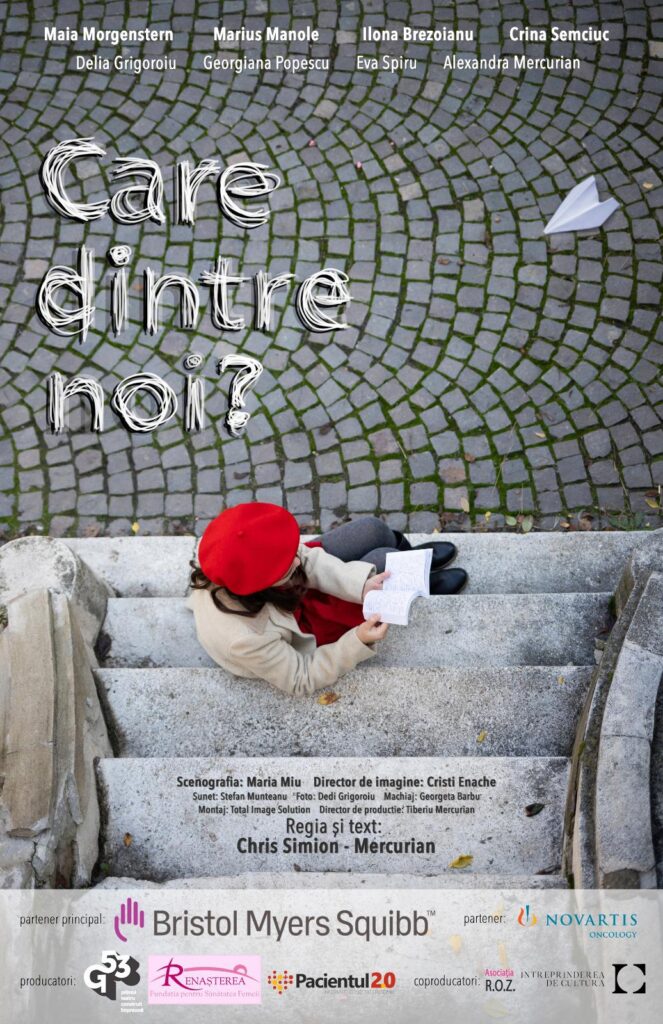 In a chemotherapy ward, where a day is lived like a lifetime, where doors are drawn when there are none, and where people see sunshine even though there are no windows, five characters with different life experiences finally manage to see the situation in which they are as an opportunity. 
"Which of us" because we never know which of us. One in 8 women is diagnosed with breast cancer. And yet cancer is not a disease. It's a gift, if you can see it that way. In 2017 I was diagnosed, and the story of the film is inspired by what I experienced during the oncological treatment. The film "Which of Us" is my way of sharing with those who are going through this ordeal that there is light behind the disease. Everyone has within themselves an unsuspected power to overcome a difficult obstacle. They just have to be patient, don't panic and take it easy, with humor. There are much more dramatic situations than cancer. Detachment, change of perspective, positive attitude are not tips, they are some exercises that can be useful.. Life is beautiful with everything that comes as a package, not only with what suits us. And when you think you can't do it anymore, it seems to you. You can do so much more." says Chris Simion – Mercurian. 
The actors play in the film Maia Morgenstern, Marius Manole, Ilona Brezoianu, Crina Semciuc, but also Delia Grigoroiu – patient, Georgiana Popescu – nurse, Eva Spiru – resident doctor and the child Alexandra Mercurian.
"When you work with Chris, you feel trust, you feel that you are needed, you feel that you have meaning. It's not simply another project, although we all need projects, shows, filming, characters, the continuity of our work. Before any other considerations, it gave me a purpose to exist for, to work for, to ask questions about. This film is like a support, it's a support and I hope it will alleviate some of the anxieties, the anxieties, the fears, the darkness that increase the severity and the impact that the disease has on the person." , says Maia Morgenstern. 
This is a "gift film" as he calls it Chris Simion – Mercurian and, moreover, it was first made for the patients and attendants, and then for the rest. But during the pandemic it is good for everyone because it gives you courage and hope. It can only be viewed online, access is free and the scheduling calendar will be announced on the Facebook page of director Chris Simion – Mercurian and on the partners' pages. Tuesday, November 17, 8 p.m., it will be broadcast on Facebook on the Pacientul 2.0 page and Friday, November 27, 8 p.m., on Facebook on the pages of the Zetta Clinic and the R.O.Z. Association (Patience.Optimism.Smile)
"Patients are at the center of all our actions. They inspire us. They are the reason we come to work every day. Our focus on patients and their families motivates us and we are driven by the reality that our efforts can mean more chances at life for these people. Bristol Myers Squibb continues to support programs, initiatives and organizations that will help improve health, promote cancer awareness, screening, care and healthcare in all of our communities. We never give up in our search for the next innovation that could represent new hope for patients who urgently need, even today, new treatment options", said Mr. Cătălin Radu, General Manager of Bristol Myers Squibb Romania.
Which of us
Which
Maia Morgenstern – Andrea
Marius Manole – The Doctor
Ilona Brezoianu – Ina
Crina Semciuc – Maica
Delia Grigoroiu – Delia
Georgeta Popescu – nurse
Eva Spiru – resident doctor
Alexandra Mercurian – the kid
Sound: Ștefan Munteanu
Photo and poster: Dedi Grigoroiu
Makeup: Georgeta Barbu
Assistant director: Dan Severin
Editing and sound design: Total Image Solution
Production director: Tiberiu Mercurian
Scenography: Maria Miu
Scenography assistant: Maria Constantin
Director of photography: Cristi Enache
Written and directed by Chris Simion – Mercurian
 Producers: Grivita 53, Fundația Renățrea, Pacientul 2.0
Co-producers: Culture Enterprise & R.O.Z Association.
Lead partner: Bristol-Myers Squibb 
Partner: Novartis
Duration: